Go your own way on the board that's invented more tricks than any other! The Box Scratcher BTX snowboard! Whether it be terrain parks, city parks, mountain peaks or roof peaks, this board knows only the boundaries of your brain, none! Unlock your creativity with the award winning, double decade video part filming, fun easy ride that has enough stability for any level ripper. Snowboarding doesn't fit in a box, it fits in a Box Scratcher! Art by the subversive rabble rouser Pika Burtner. Pika Talks 2016 Box Scratcher Art THE WHOLE MOUNTAIN IS YOUR JIB PARK! AWARD WINNING ENDLESS CREATIVE FREESTYLE FUN 2016 Transworld Snowboarding – Good Wood 2015 High Cascade – Campers Choice 2014 Snowboard Canada – Grade Eh Box Scratcher Info Graphic Board Specs Size Contact Length Side Cut Nose Width Waist Width Tail Width Stance* Min-Max / Set Back Flex 10 = Firm Weight Range (lbs) 143 108 7.6 27.9 24.5 27.9 20.25"-26" / 0" 4.5 70 + 147 111 7.8 28.7 25.1 28.7 20.25"-26" / 0" 4.5 85 + 151 113 8 29.1 25.2 29.1 20.25"-26" / 0" 5 95 + 154 115 8.2 29.3 25.3 29.3 20.25"-26" / 0" 5 110 + 157 117 8.3 29.6 25.5 29.6 20.25"-26" / 0" 6 120 + View all specs Technology Box Scratcher Construction

Read more at: http://www.lib-tech.com/snowboards/burtner-box-scratcher/
Go your own way on the board that's invented more tricks than any other! The Box Scratcher BTX snowboard! Whether it be terrain parks, city parks, mountain peaks or roof peaks, this board knows only the boundaries of your brain, none! Unlock your creativity with the award winning, double decade video part filming, fun easy ride that has enough stability for any level ripper. Snowboarding doesn't fit in a box, it fits in a Box Scratcher! Art by the subversive rabble rouser Pika Burtner. Pika Talks 2016 Box Scratcher Art THE WHOLE MOUNTAIN IS YOUR JIB PARK! AWARD WINNING ENDLESS CREATIVE FREESTYLE FUN 2016 Transworld Snowboarding – Good Wood 2015 High Cascade – Campers Choice 2014 Snowboard Canada – Grade Eh Box Scratcher Info Graphic Board Specs Size Contact Length Side Cut Nose Width Waist Width Tail Width Stance* Min-Max / Set Back Flex 10 = Firm Weight Range (lbs) 143 108 7.6 27.9 24.5 27.9 20.25"-26" / 0" 4.5 70 + 147 111 7.8 28.7 25.1 28.7 20.25"-26" / 0" 4.5 85 + 151 113 8 29.1 25.2 29.1 20.25"-26" / 0" 5 95 + 154 115 8.2 29.3 25.3 29.3 20.25"-26" / 0" 5 110 + 157 117 8.3 29.6 25.5 29.6 20.25"-26" / 0" 6 120 + View all specs Technology Box Scratcher Construction

Read more at: http://www.lib-tech.com/snowboards/burtner-box-scratcher/
Go your own way on the board that's invented more tricks than any other! The Box Scratcher BTX snowboard! Whether it be terrain parks, city parks, mountain peaks or roof peaks, this board knows only the boundaries of your brain, none! Unlock your creativity with the award winning, double decade video part filming, fun easy ride that has enough stability for any level ripper. Snowboarding doesn't fit in a box, it fits in a Box Scratcher! Art by the subversive rabble rouser Pika Burtner. Pika Talks 2016 Box Scratcher Art THE WHOLE MOUNTAIN IS YOUR JIB PARK! AWARD WINNING ENDLESS CREATIVE FREESTYLE FUN 2016 Transworld Snowboarding – Good Wood 2015 High Cascade – Campers Choice 2014 Snowboard Canada – Grade Eh Box Scratcher Info Graphic Board Specs Size Contact Length Side Cut Nose Width Waist Width Tail Width Stance* Min-Max / Set Back Flex 10 = Firm Weight Range (lbs) 143 108 7.6 27.9 24.5 27.9 20.25"-26" / 0" 4.5 70 + 147 111 7.8 28.7 25.1 28.7 20.25"-26" / 0" 4.5 85 + 151 113 8 29.1 25.2 29.1 20.25"-26" / 0" 5 95 + 154 115 8.2 29.3 25.3 29.3 20.25"-26" / 0" 5 110 + 157 117 8.3 29.6 25.5 29.6 20.25"-26" / 0" 6 120 + View all specs Technology Box Scratcher Construction

Read more at: http://www.lib-tech.com/snowboards/burtner-box-scratcher/
Go your own way on the board that's invented more tricks than any other! The Box Scratcher BTX snowboard! Whether it be terrain parks, city parks, mountain peaks or roof peaks, this board knows only the boundaries of your brain, none! Unlock your creativity with the award winning, double decade video part filming, fun easy ride that has enough stability for any level ripper. Snowboarding doesn't fit in a box, it fits in a Box Scratcher! Art by the subversive rabble rouser Pika Burtner. Pika Talks 2016 Box Scratcher Art THE WHOLE MOUNTAIN IS YOUR JIB PARK! AWARD WINNING ENDLESS CREATIVE FREESTYLE FUN

Read more at: http://www.lib-tech.com/snowboards/burtner-box-scratcher/
Unless you've been snowboarding in North Korea for the past fifteen years, the legacy of Jesse Burtner is ever-present. From Think Thank to board design, Jesse's been pushing the conception of snowboarding for years. And chances are, when Jesse straps in, he's locking into the Lib Tech Box Scratcher BTX Snowboard. Forgiving enough for the burgeoning shred head, but stable enough for the most seasoned hand, this purveyor of good times will keep you rockin' all season long -- both in the park and the streets.
Rocker Type
BTX – Banana Technology is a all-terrain freestyle banana smoothie. Rocker is placed between your feet meeting flat and mild camber at the contact points. This creates mild tip pressure for an unreal float in deep snow and easy-presses. The solid pressure between your feet is great for turning and strong edge hold.

Flex
Medium Flex – The most versatile flex because it is equally responsive and friendly giving riders peak performance all over the mountain.
Core
Aspen / Columbian Gold Wood Core
Laminates
Original Power Construction – Light. Environmentally Nice. Strong.
Triax/Biax Fiberglass
Sidewalls
Birch Internal Sidewalls
UHMW Sintered Sidewalls
UHMW Tip/Tail Impact Deflection
Base
Sintered Base
Edges
Magne-Traction® – 7 Strategically located edge serrations provide unreal edge hold and control in all conditions. Turns ice into powder.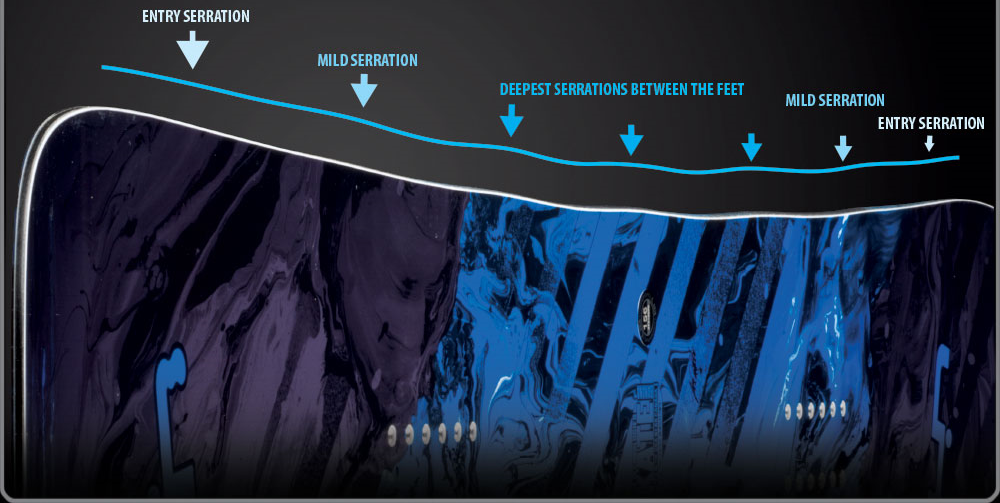 Topsheet
Eco Sub PBT
Graphics
Art by Pika Burtner
Binding Compatibility
2 x 4 Inserts